Implants and bridges: two important options to replace teeth
Sporting a mouth full of your own, natural teeth is something to smile about. But the reality is that teeth often decay, they break, and they have to be removed. When this happens, you need to decide how to replace that tooth. Two of the more popular options are implants and bridges.
Implants
A dental implant is an artificial root made of titanium that is inserted into the jawbone to replace the root of a natural tooth. An artificial tooth is attached to the implant, which acts as an anchor to hold the replacement tooth in place. According to the Dental Association of Prince Edward Island (DAPEI), if you are in good general health, have healthy gums and have enough bone in the jaw to hold an implant, dental implants might be the optimal choice for you.
There are significant advantages to implants, says Dr. Kirk Preston, a board certified prosthodontist (an expert in the restoration and replacement of teeth) who has practices in Fredericton and Saint John. "Replacing a tooth with a dental implant is the restorative treatment that is closest to having a natural tooth," he notes. "The tooth will look and feel like a 'real' tooth. It is easy to floss and keep clean, and it is the treatment that will last the longest."
Individuals considering an implant also need to factor in the time involved. "Dental implants require surgery, and it is a time-consuming process as the patient is required to attend numerous appointments over a prolonged period," says Dr. Preston, president-elect of the New Brunswick Dental Society.
"Also," he adds, "some patients require bone grafting or other procedures to prepare the area prior to implant placement." Bone grafting, often required when the jawbone has shrunk or has not developed normally, enables new bone to be added.
DAPEI cautions that implants can cost more than other kinds of replacement teeth and may not be covered by a dental plan. Although many consider implants as a one-time expense, they will require regular maintenance and monitoring of all components.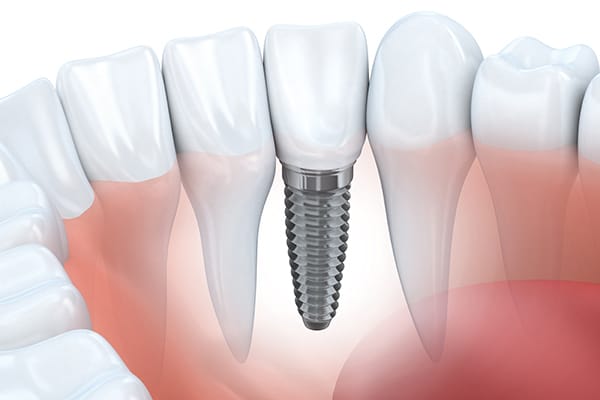 Bridges
A bridge, as the name suggests, extends across an area that has no teeth. It is typically made up of an artificial tooth that is fused between two crowns, which are hollow, artificial teeth that fit over natural teeth or implants. A bridge is held firmly in place by the anchoring teeth located on each side of the missing tooth.
"Bridges do not require surgery, and the treatment process takes less time and fewer appointments," says Dr. Preston.
However, he points out, the process involves altering the teeth adjacent to the missing tooth. If there are problems with these teeth, they can be fixed at the same time the bridge is put in place, but if these adjacent teeth have no issues, a bridge will irreparably compromise them.
You also need to consider the attention required once the bridge is in place. "Caring for a bridge can be challenging, particularly if molars are involved, and the long-term prognosis, as compared to implants, is not as favorable," says Dr. Preston. "Because of gum recession and the potential for issues with the anchoring teeth, it is likely that a bridge would need to be replaced in a shorter period of time than would a crown on a dental implant."
A bridge is also called a fixed bridge or a fixed dental prosthesis, however, it can be removed.
Making the right choice
You'll want to weigh the pros and cons of each replacement procedure and speak with your dentist about your specific situation. If possible, it's important to replace the tooth.
"Missing teeth compromise a person's ability to chew and, therefore, digest food, as well negatively affecting their appearance and self-esteem," says Dr. Preston.